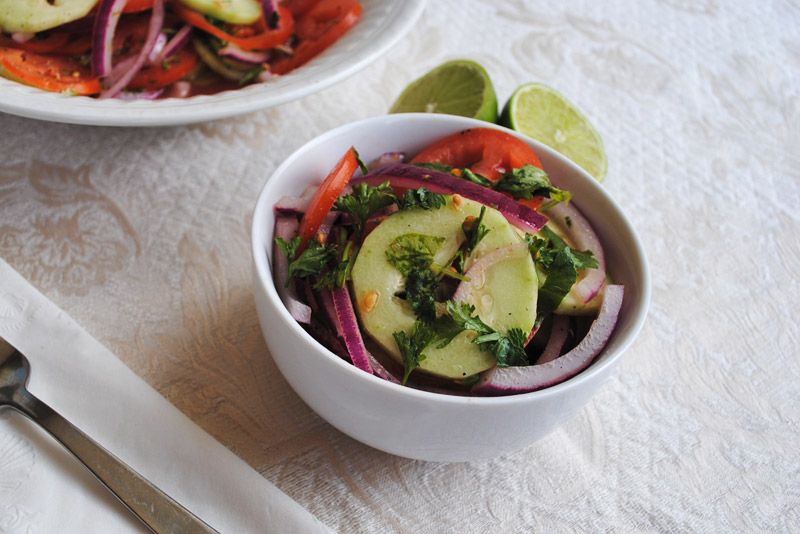 My family loves to spend time in my sister-in-law's place. Apart from her warm welcome, it's her garden which serves as the prime attraction, especially for my little devils since they get lots of space to run around an materialize their mischiefs. But I fell in love with the garden owing to the luscious veggies growing in it. Each veggie always makes me wonder the wonderful dishes I could have whipped up if I had one such garden in my house. So, when she came to my house with a bag full of her garden-fresh Armenian cucumbers, I was delighted. So here I am with a cucumber salad recipe made from those very juicy fruits.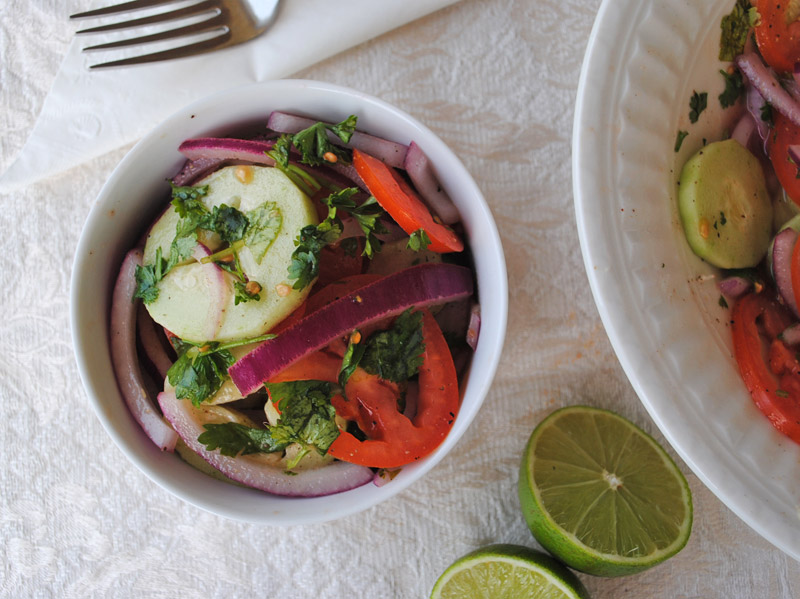 Cucumber alone would have made the salad a tad boring! So I decided to pep it up further with tomatoes, onions, fresh herbs and a dash of lemon juice. The final result was a crunchy-munchy salad with a hint of tang that served as a great side for a spicy lentil dish. However, when it comes to making salads, sky is the limit. That is why, I have decided to tweak it further and toss in a handful of crushed peanuts or crumbled feta to add new flavors.
Apart from being versatile to make, there is a number of ways to serve it too. What about piling it up on top of bread slice to make an open face sandwich or use it to top tortilla chips? Sound interesting!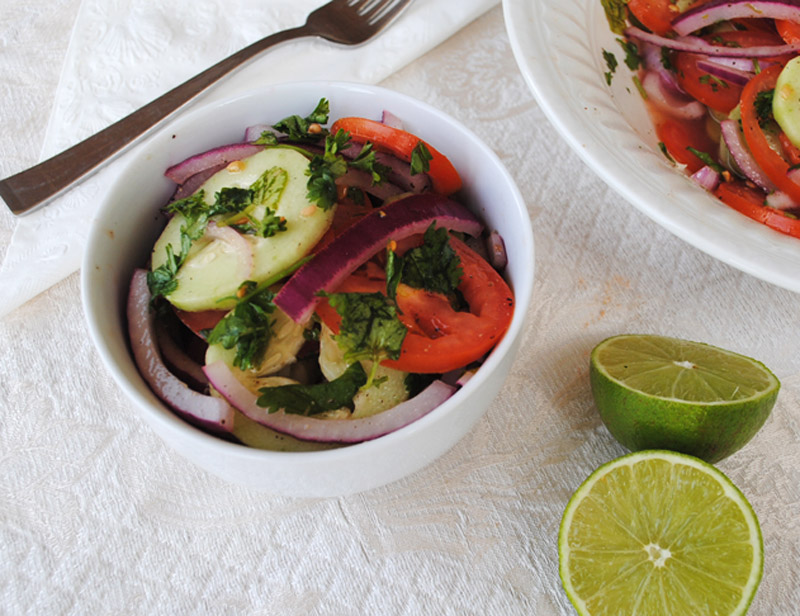 Cucumber Salad with Tomatoes and Onion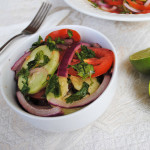 Skill Scale:
Easy
Serving:
2
Prep Time:
10 minutes
Ingredients
Armenian cucumbers - 1, fresh, sliced (don't have, can use English cucumbers)
tomatoes - 2, fresh, sliced
red onion - 1/4, sliced
parsley leaves - 1 tbsp, fresh, minced
cilantro leaves - 1 tbsp, fresh, minced
olive oil - 3 tbsp
lime - 1
salt - taste
black pepper - taste
black salt - pinch
Instructions
Cut vegetables
In a salad bowl, toss together the cucumber, tomatoes, onion, parsley leaves, and cilantro leaves.
In a cup, whisky together the oil, lime juice, salt, black pepper, and black salt.
Drizzle lime-oil dressing over the vegetables
Mix well
Serve immediately with bread, pita bread, tortilla chips, garlic stick, etc.
Print