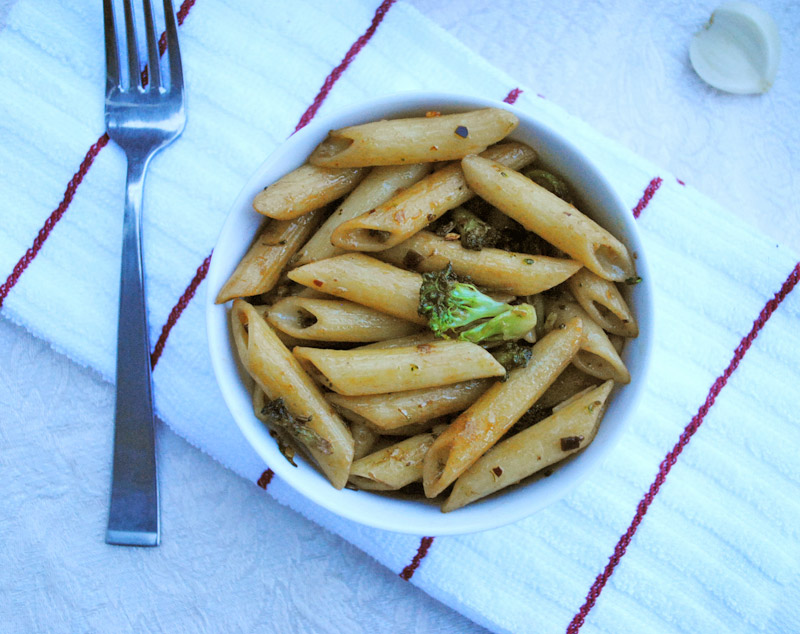 Most Italian pasta dishes are drenched in either creamy white sauce or spiced up with tomato sauce. Booorrriinnggg! I was on a lookout for a pasta recipe without any sauce but full of flavors and resorted to few recipes doing the rounds in the blogosphere. This particular recipe of spicy penne with broccoli and garlic grabbed my attention as its one of those rare pasta fares without a speck of sauce in it. It used only garlic as well as red pepper flakes for the flavors and broccoli to make it heartier. Though, I wasn't too sure about how it would actually turn out, but I did give it a try! As expected, it was bland and the pasta was too dry and chewy for my palate. May be pasta do needs a sauce to shine!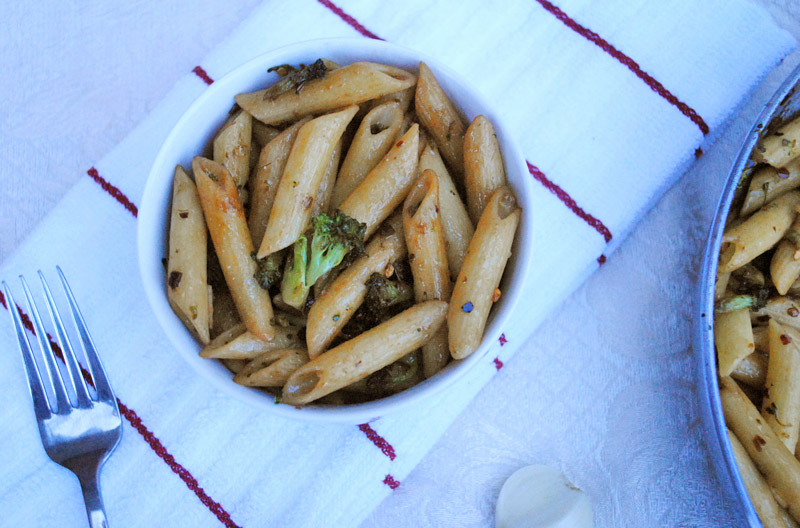 That was few years back and I went back to the sauce-soaked pasta dishes until I came across this recipe in my notebook. I thought of giving it another shot but with few add-ons of mine for more flavors. So in went splashes of soy sauce plus balsamic vinegar and more olive oil than recommended in the original recipe. This time the flavors came together to create a luscious outcome. The red pepper flakes adds an extra kick to the entire dish though might need to underplay it to suit timid taste buds. More veggies of your choice are welcome too!
So are you ready to try out my take on sauce-less pasta!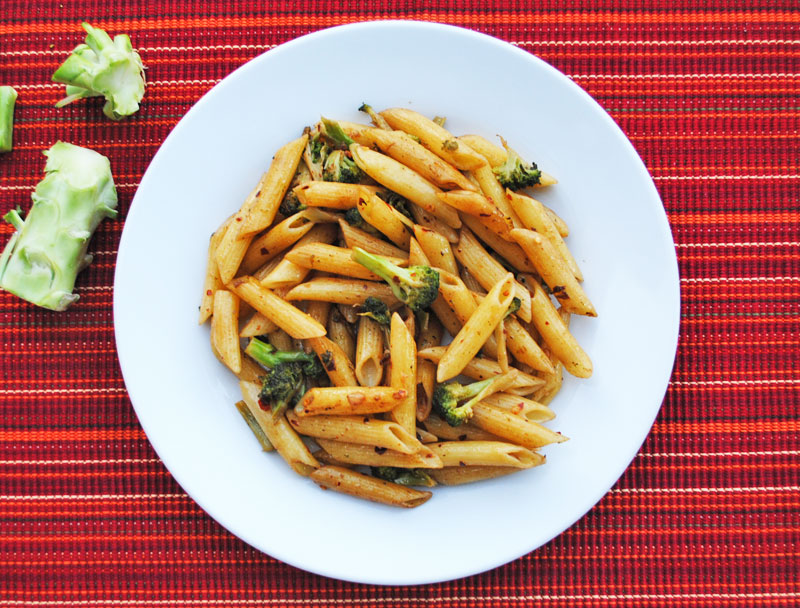 Spicy Penne with Broccoli and Garlic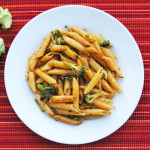 Skill Scale:
Easy
Serving:
2
Prep Time:
5 minutes
Cook Time:
10 minutes
Ingredients
penne pasta - 2 1/2 cups
broccoli - 5 cups, (sliced into thin florets) - see picture below
cloves garlic - 2-3 large, minced
olive oil - 5 tbsp
salt - 1 tsp
soy sauce - 1.5 tbsp
balamic vinegar - 1/2 tsp
red pepper flakes - 1 1/2 tsp
Instructions
Cook the pasta in a large pot of boiling water until al dente, tender but still firm to the bite, about 8 minutes.
Drain pasta and set aside.
Heat the olive oil over medium.
Add garlic and red pepper flakes and cook until garlic is lightly golden.
Add broccoli and season with salt.
Mix well with the oil and sauté until broccoli begins to soften.
Add boiled pasta and toss well to mix with oil and broccoli.
Add soy sauce and mix well.
Adjust seasoning/sauce to taste.
Serve.
Print