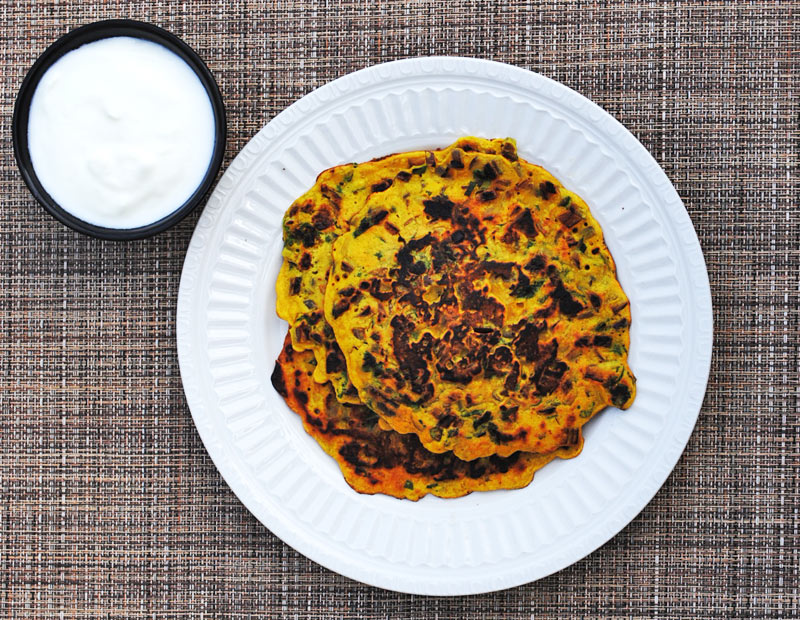 Chickpea flour crepes are liked by people of every nation. Whether laced with herbs for the French flavors and pepped up with exotic spices to suit Indian taste buds, these chickpea flours are meant to impress. So, when I decided to make its Indian version for breakfast, the yummy contrast of crispy edges and soft center pleased everyone. I jazzed them up with a dash of chilies though made sure to serve with yogurt dip in order to tame down the heat slightly, especially for my kids. You may also throw in few chopped veggies to boost its nutritional profile.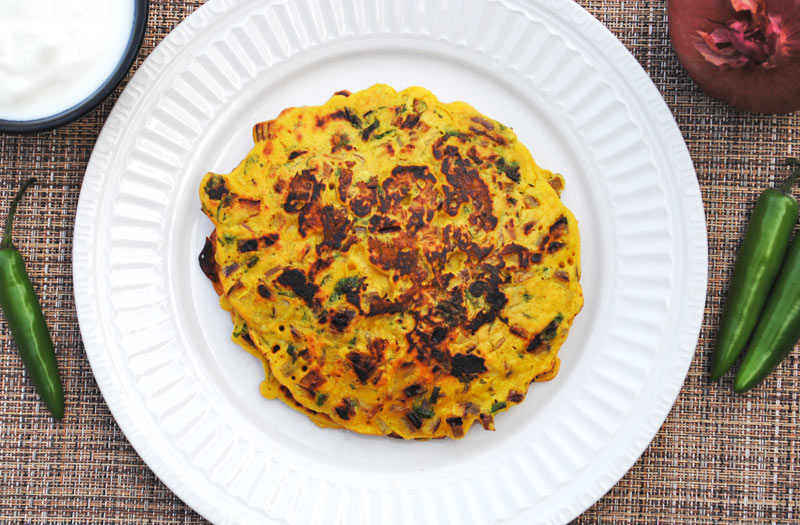 Chickpea Flour Crepes with Onion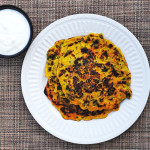 Skill Scale:
Easy
Serving:
2-3
Prep Time:
10 minutes
Cook Time:
10 minutes
Yield:
3-4 crepes
Ingredients
chickpea flour - 1 cup
turmeric - 1/2 tsp
salt - 1 tsp
water
red onion - 1/2, chopped
cilantro - 3 tbsp, chopped
Serrano jalapeno - 2, chopped, (use 1 if less spicy)
canola oil
Instructions
Combine flour, turmeric and salt in bowl and mix.
Pour about 1/2 cup of warm water and mix well to get a lump free batter.
Once it's smooth, pour another 1/4 cup of water. The batter should be thinner than pancake batter.
Add onion, cilantro, and jalapeño to the batter and stir.
Heat pan on medium heat.
Spread a little oil on the pan.
Pour a ladle of batter into the center of the hot pan. Smooth it with the back of a spoon or a ladle to form a circle.
Drizzle about a little oil on the edges.
Cook for a few minutes until bottom side is brown and crisp.
Flip and cook the other side for another few minutes until brown spots appear.
Serve hot with yogurt (preferably but ketchup or any sauces (chutney)).
Print