Sometimes it can be difficult to stay healthy during the summer. If you're all out of of quick, delicious, and healthy recipes to whip up, try this refreshing black bean and chickpea salad! Not is it good for you, but also takes only minutes to make, saving you time in the kitchen. This salad especially tastes great on a hot, summer day when you need a dish that will cool you down.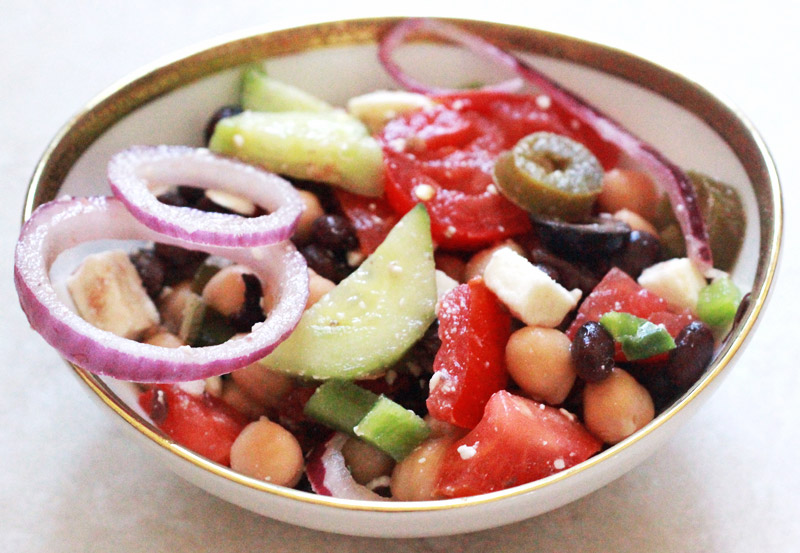 Black Bean and Chickpea Salad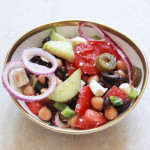 Skill Scale:
Easy
Serving:
5-6
Prep Time:
10 minutes
Ingredients
cucumber - 1, (diced)
tomatos - 4, (diced)
onion - 1/2, (diced)
olives - 1/2 cup, (sliced)
black beans - 1 cup, (can or boiled)
chickpeas - 1 cup, (can or boiled)
feta cheese
bell pepper - 1/2, (diced)
jalapeños - optional
salt - to taste
lime - 1
Instructions
Mix the cut vegetables together in a large bowl.
Add the black beans and chickpeas to the bowl.
Sprinkle the feta cheese and salt on top and mix into the salad.
Add the juice of the lime and mix in.
Print