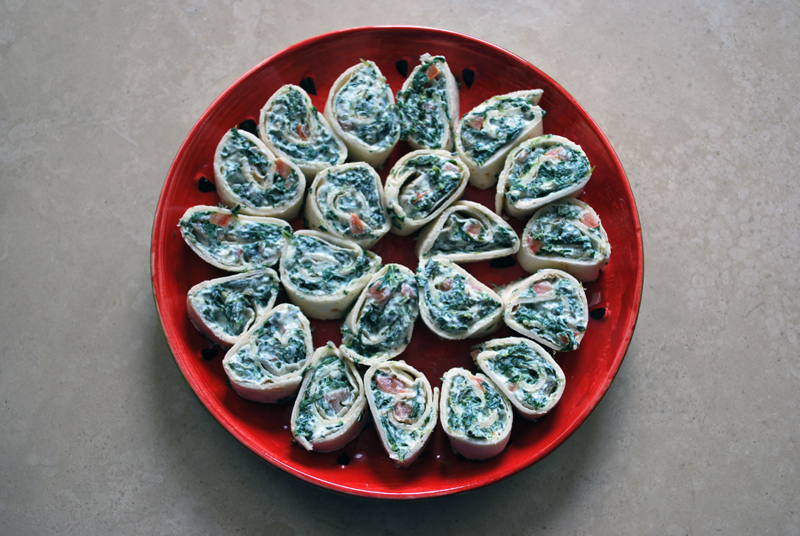 Growing up, I had always LOVED spinach since I was an avid watcher of the cartoon series, Popeye, in which the lead character gets all of his power to beat up the villains from eating spinach! Because of my immense love for spinach, I would put it on anything that I could whether it was pizza, juices or even in my salads. It sounds gross but trust me, it was delicious!
On the other hand, my brother wasn't a big fan of spinach so he'd always make a face while grudgingly having to eat it since my mom assumed that since one sibling loved spinach, the other one did too. While I was the "spinach-girl", my brother was the "pepper-boy" because he loved eating spicy foods! Seeing how us siblings had opposite tastes, my mom tried quite a few recipes to combine both of our favorites before stumbling on this easy masterpiece which satisfied both of our tastes.
This creamy spinach spiral tortilla rolls (pinwheels or roll ups) recipe combines the gorgeous color and taste of spinach and the spiciness of jalapeno peppers to make your taste buds dance with every bite!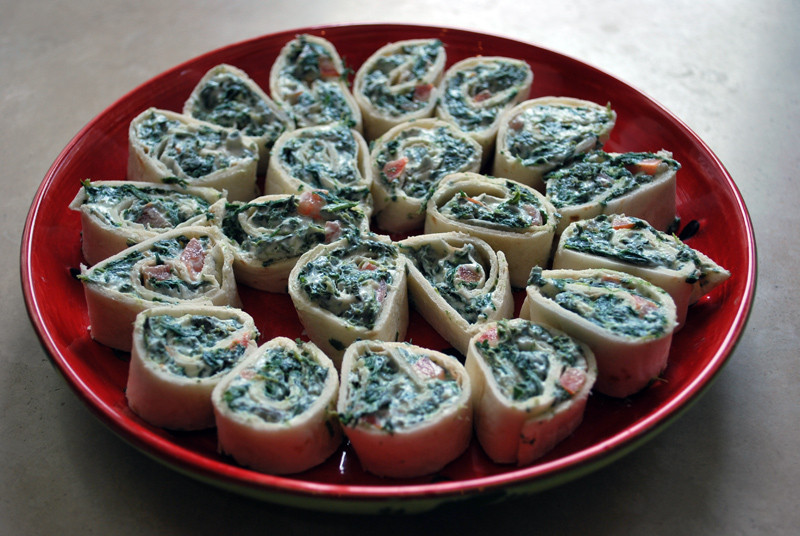 Creamy Spinach Spiral Tortilla Rolls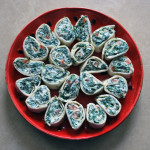 Skill Scale:
Easy
Serving:
6-8
Prep Time:
10-15 minutes
Ingredients
tortillas - 8 fajita size (6 inch)
Philadelphia cream cheese - 8 oz
spinach - 2 cups frozen spinach or 4 cups fresh baby spinach (chopped)
red bell pepper - ½, finely diced
Jalapeno peppers - 2 tablespoon finely diced pickled (depending on the amount of spice you can handle)
Instructions
If using frozen spinach, thaw it and use the same water to microwave it for three minutes. If using fresh baby spinach, add 2 tablespoons of water and microwave it for three minutes.
Using a muslin cloth, get rid of the excess water by squeezing the spinach.
Add cream cheese and spinach to a bowl
Mix thoroughly
Dice ½ a red bell pepper and 1-2 tablespoons of jalapeno peppers and add to the spinach and cream cheese mixture.
Mix thoroughly
Lightly warm tortillas so they are soft
Evenly spread the mixture onto the 8 tortillas and roll them
Cut the tortillas into half inch pieces
**if your spinach still has water in it, you will use less spinach in order to keep an equal proportion to the cream cheese
Print