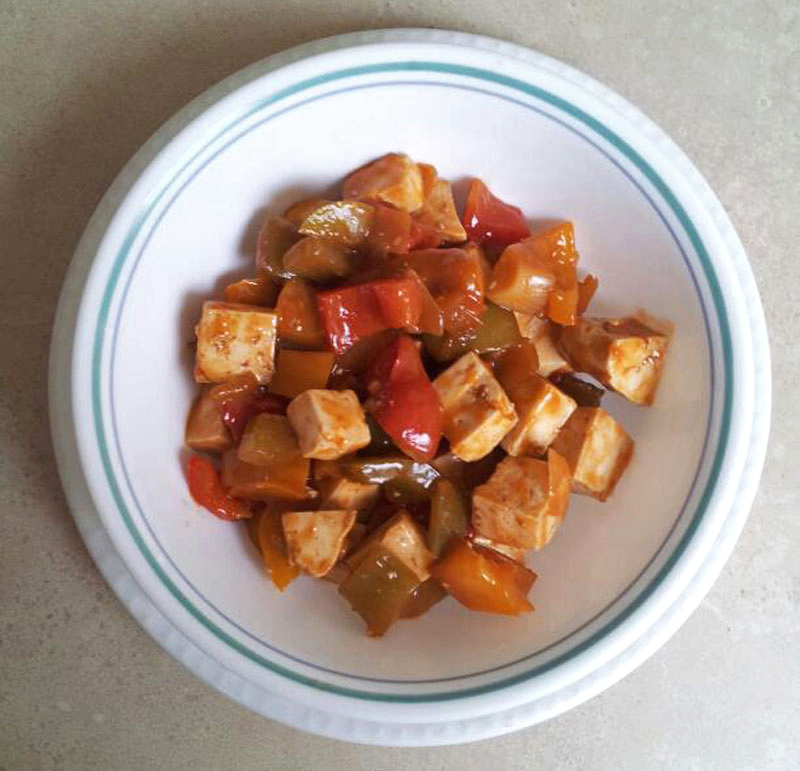 The other day my mom was asking us what we'd like to eat for dinner. We had eaten pizza for lunch thus we weren't as hungry as we usually are so we just told her to make something light. She looked in the fridge and found a brick of tofu and a variety of bell peppers when she had an idea to put those together and see what it gave her. 
Now my mom has always been the trial-and-error types who love to try and make new things from random ingredients that she finds inside of the fridge or pantry. Luckily this trial recipe turned out to be a delicious blend of healthy ingredients with a Chinese twist and it was extremely filling at the same time!
I hope you will enjoy this simple and easy chili tofu recipe!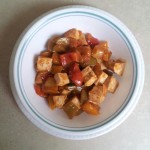 Skill Scale:
Easy
Serving:
4
Prep Time:
5 minutes
Cook Time:
8-10 minutes
Ingredients
firm tofu - 2 cups (cubed)
green bell peppers - 1 cup (diced)
red/yellow bell peppers - 1 cup (diced)
onion - 1 cup (diced)
oil - 1 tbsp
vinegar - 1 tbsp
chili sauce - 1 tbsp
soy sauce - 1 tbsp
ketchup - 4 tbsp
Instructions
Heat oil in a pan
Add onion to the pan and stir for 1-2 minutes until translucent
Add green and red/yellow bell peppers to the pan and stir for 2-3 minutes until it is crunchy
Add tofu cubes, vinegar, chili sauce, soy sauce and ketchup to the pan and stir for 1 more minute
Adjust seasoning to taste
Can be served alone or alongside steamed rice
Print