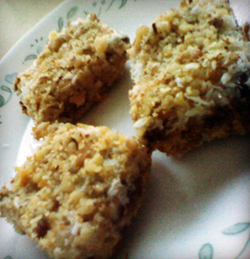 I've always been very picky when it comes to eating anything sweet especially after I started baking and realized how much fat is unknowingly being put in out body with the insane amounts of butter and sugar that each dessert requires.
After my mom made this "healthier" alternative to cookie bars, I knew that this would be the best substitute to fit my needs.
These graham cracker bars are the perfect blend of sweetness, crunchiness and chewiness. They can pretty much be made by anyone and are guaranteed to leave everyone asking you how you made such a wonderful treat!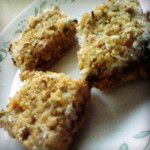 Skill Scale:
Easy
Serving:
15
Prep Time:
5 minutes
Cook Time:
25-30 minutes
Ingredients
butter - ½ cup melted
baking pan - 13x9
graham cracker crumbs - 1 ½ cup
sweetened condensed milk - 1 can (14 oz)
semi-sweet chocolate chips - 1 cup
butterscotch chips - 1 cup
coconuts - 1 cup flaked
walnuts - 1 cup chopped
Instructions
Heat oven to 350 degrees
Use the melted butter and spread evenly on all sides on the baking pan
Layer all of the ingredients in the order listed in the ingredients
Press all ingredients down firmly
Bake for 25-30 mins
Remove from oven and cool down the bars
Cut bars into even pieces
Print