With the amount of zucchini growing in our garden, we've been scrambling to come up with different ways to eat it all! I mean, it'd get pretty boring if you made and ate the same thing over and over again, right?! Well, I don't know about you but I would! Nothing beats a little variety in life especially when it comes to food. And speaking of variety, what could be a better example than pasta? Pasta comes in all shapes and sizes, and now there's the new fad of making pasta out of vegetables! I remember the very first time I saw pasta made out of vegetables, I scoffed and said what kind of 'pasta' is that? Little did I know that whoever came up the idea was a genius!
My mom made this zucchini pasta the other day and I actually fell in love. I'm usually fair-game to all types of cuisines but this was definitely a game changer! This was undoubtedly the BEST way to enjoy pasta without having the "OMG, I can't believe that I just ate all those carbs!" and "There's goes my diet!" reactions follow short after.
For all the mom's out there that struggle to get some veggies in your kids' bodies, I think I've found a solution for you: a pasta made solely out of vegetables! Now your kids can enjoy the perks of eating 'pasta' while you bask in your glory of secretly feeding them vegetables 😉 Bon appétit!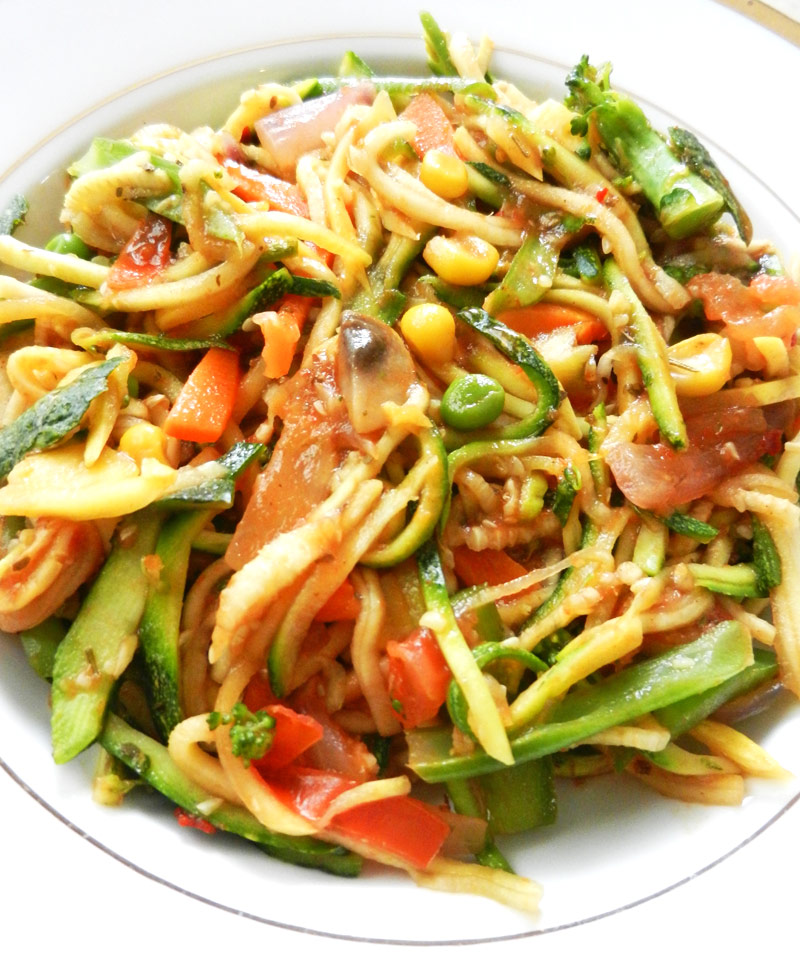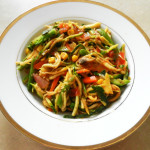 Skill Scale:
Easy
Serving:
4-6
Prep Time:
15 minutes
Cook Time:
5-6 minutes
Ingredients
green zucchini - 3, (julienned)
yellow zucchini - 3, (julienned)
red onion - 1, small, (sliced) [about 1 cup]
green beans - 8-10, (julienned) [about ½ cup]
button mushrooms - 2, (sliced) [about ½- ¾ cup]
florets broccoli - 2-3, (cut in small pieces)
carrot - ½, (julienned) [about ½ cup]
green bell pepper - ¼, (julienned) [about ½ cup]
red bell pepper - ¼, (julienned) [about ½ cup]
corn kernels - ½ cup, (thawed)
green peas - ½ cup, (thawed)
basil leaves - 4-5, (cut in small pieces)
salt - 1 tsp
red chili flakes - 1 tsp
black pepper - ½ tsp, (crushed)
Italian seasoning - 1 tsp
oregano - ½ tsp
pasta sauce - 1 cup
olive oil - 1 tbsp, (you can use any type of oil)
Instructions
Cut all of the vegetables according to the way they're listed in the ingredients
Heat the olive oil in a 5 quart pan on a high flame
Place the onion in the pan and sauté for about 1-2 minutes (until it's translucent)
Add the green beans, mushrooms, broccoli, carrots, green and red bell pepper, corn kernels and green peas to the pan
Sauté all of the vegetables for about 2-3 minutes until they are crisp-tender
Add the green and yellow zucchini, basil leaves, salt, red chili flakes, crushed black pepper, Italian seasoning and oregano to the pan, sauté and turn the flame off
Serve immediately with pasta sauce
Notes:
*Don't cook the zucchini or overcook the other vegetables or else they will release water
**We used a small julienne blade for the zucchini and carrots
Print