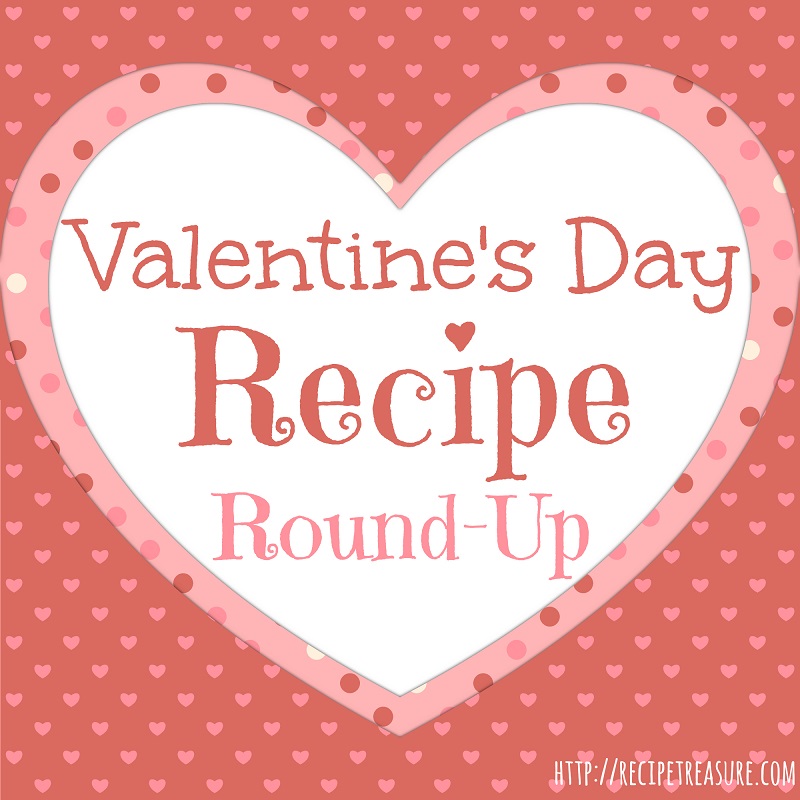 Valentine's Day is on its way, so it's time to get ready for Valentine's Day Recipe Roundup.
We've compiled some of best Valentine's Day recipes from the best blogs that we are looking forward to trying. Check these mouth-water recipes out. We hope you love them as much as we do!
If you host a link up and would like to have it listed here, please email us at recipetreasure@gmail.com or post your comment here and we will get you added to this list! The posts can be old or brand new vegan / vegetarian recipes as long as they are appropriate for Valentine's Day! They are open through Feb 13. We're looking forward to seeing what you all submit. Thanks!
Desserts and Sweets
I Heart You Chocolate-Strawberry Cupcakes –  Lady Behind the Curtain
Valentine's Day Peek-A-Boo Pound Cake – Very Culinary  [INCLUDES EGGS]
Chilled Double Chocolate Torte – Oh She Glows [VEGAN]
Raspberry & Buttercream Meringue Hearts – Sweet C's Designs  [INCLUDES EGGS]
Perfect Chocolate Brownies – Tide & Thyme  [INCLUDES EGGS]
Raspberry Swirl Mini Cheesecakes – Tracy's Culinary Adventures  [INCLUDES EGGS]
Peanut Butter Fudge Tartlets – Bake or Break  [INCLUDES EGGS]
Cannoli Strawberries – Foxes Love Lemons
Strawberry Brownie Kabobs – Erica's Sweet Tooth
Red Velvet Cheesecake Swirl Cupcakes – A Few Shortcuts  [INCLUDES EGGS]
Raspberry Fool – A Family Feast
Two Ingredient Strawberry Fudge – The View From Five Ten
Red Velvet Cake – Mother Thyme  [INCLUDES EGGS]
Chocolate Covered Strawberry Hearts with #Ghirardelli – Heather's French Press
Raspberry White Hot Chocolate – SugarHero
Strawberry Sugar Cookie Cups – Julie's Eats & Treats
Breakfast/Brunch
SweetHeart Donuts – Wonky Wonderful  [INCLUDES EGGS]
Sourdough Oatmeal Pancakes with Strawberry Maple Butter – E is for Eat  [INCLUDES EGGS]
Valentines Pancakes – Camille Styles Breakfast  [INCLUDES EGGS]
Chocolate Crepes with Strawberries – Skinnytaste  [INCLUDES EGGS]
Whole Wheat Pancakes with Strawberry Sauce –  Handle the Heat  [INCLUDES EGGS]
Buckwheat Crepes with Greens and Gruyere – Feed Me Phoebe  [INCLUDES EGGS]
Fat-free Vanilla or Blueberry Waffles – FatFree Vegan Kitchen  [VEGAN]
Banana Chocolcate Pancakes – Portuguese Girl Cooks  [INCLUDES EGGS]
Smoky Millet Stuffed Sweet Potato Rice – Vegan Richa [VEGAN]
Appetizers
Baked Herb and Parmesan Potato Slices – Coupon Clipping Cook [VEGAN]
Avocado Hummus – The Lovely Cupboard [VEGAN]
Heart Beets – Bitter Sweet [VEGAN]
Tomato Pesto Tarts with Optional Prosciutto – Kitchen Treaty
Hummus and Laffa Bread – The View from Great Island [VEGAN]
Sun-Dried Tomato Pesto Palmier –  Pham Fatale
Three-Cheese Fondue – Kitchen Joy
Salads
Sicilian Citrus Salad – Arctic Garden Studio
Pear and Spinach Salad with Halloumi – Anja's Food 4 Thought
Long Green Beans with Anchovies and Sriracha – The Endless Meal [VEGAN]
Clean Eating Baked Almond Asparagus – The Gracious Pantry [VEGAN]
Roasted Brussels Sprouts with Cranberry Pistachio Pesto – Steamy Kitchen [VEGAN]
Soups
Cheddar Corn Soup – Crunchy Frugalista
Thick and Hearty Split Pea Soup – Fatfree Vegan Kitchen [VEGAN]
Hearty Broccoli- Potato Soup – Recipe Girl
Slow Cooker Hearty Vegetable and Bean Soup – Skinny Ms [VEGAN]
Cream of Portobello Mushroom Soup – Delicious Obsessions [VEGAN]
Spicy Black Eyed Peas with Kale – Ginger and Garlic [VEGAN]
Pizza
Deep Dish Skillet Pizza – It Bakes Me Happy
Skinny Passover Matzo Pizza – Skinnytaste
Cauliflower Crust Pizza – Eat. Drink. Smile.
Grilled Individual Heart-Shaped Pizzas – Kitchen Treaty
Portobello Carpaccio Pizza – Keepin' it kind [VEGAN]
Main Dishes
Baked Manicotti with Cheese – Cooking Life to the Fullest
JalapeÑO POPPER GRILLED CHEESE Sandwich – BS' in the Kitchen
Fettuccine Tartufate – Plain Gourmet
Garlic Noodles – Budget Bytes
Easy Peasy Skillet Lasagna – The Realistic Nutritionist
Perfect Creamy Macaroni and Cheese – Seasons and Suppers
Harissa Spaghettini Recipe – 101 Cookbooks [VEGAN]
Strawberry & Orange Vinaigrette Grilled Cheese – Grilled Shane
Rustic Bread Eggplant Lasagna – Vegan Yum Yum [VEGAN]