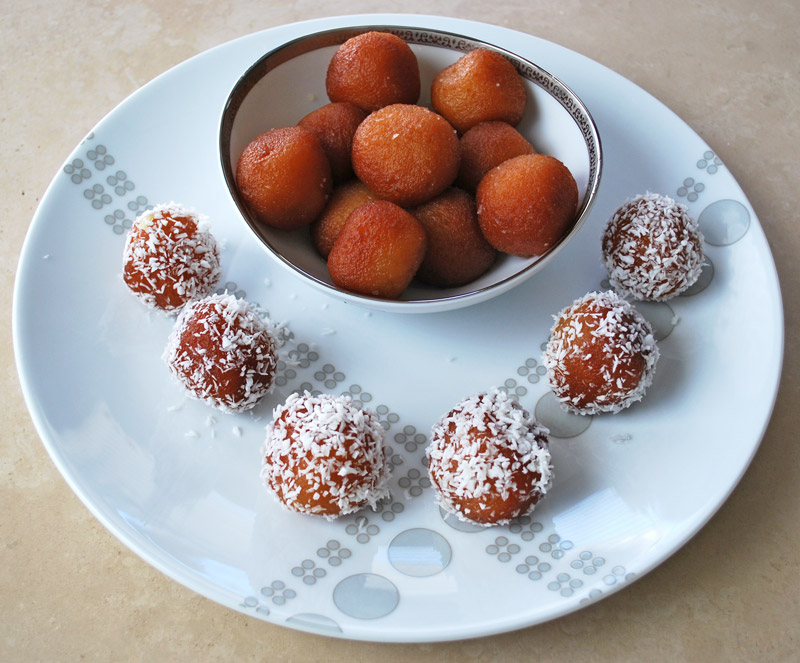 Gulab jamuns are one of those classic Indian desserts that are enjoyed by everyone regardless of what age group they belong to. I've never been one with a sweet tooth but gulab jamuns manage to make me go weak in the knees with their light yet effective punch of taste! These soft and fluffy fried milk balls (resemble dumplings) soaked in sugary syrup are undoubtedly one of the most enjoyed Indian desserts by people around the world and though they may seem complicated to make, they are actually fairly simple. The taste just misleads you into believing that there is a long and intricate way to make them. Go on, make them and fall in love with this wonderful delicacy coated in sugar syrup!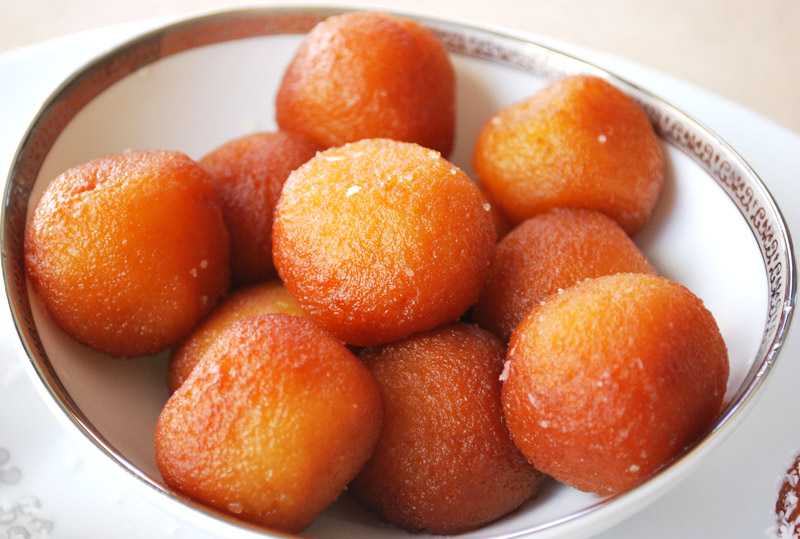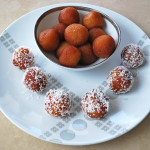 Skill Scale:
Moderate
Serving:
12-13
Prep Time:
2-3 minutes
Cook Time:
30 minutes
Ingredients
Dough
carnation milk - 1 cup
flour - ½ cup
baking soda - ¼- ½ tsp
Whipping cream - about 1/3 – ½ cup
Ghee or oil - for frying
Syrup
sugar - 4 cup
water - 5 cup
Optional:
Coconut powder
Instructions
Mix carnation milk, flour and baking soda in a bowl
Knead the ingredients with whipping cream to make a soft dough (Make sure the dough is kneaded properly or else your gulab jamun will have cracks in it and will fall apart)
Make small balls (about 24-25 that are ½ inch each) [after you fry them and put them in the syrup, they'll double in size)
In a frying pan, heat your ghee or oil
Fry the small balls in 2-3 batches on low flame until they are golden brown (about 4-5 minutes)
Remove from frying pan and place on paper towels/newspapers to remove excess oil and ghee
Set aside
In a saucepan (about 3 quarts), mix the water and sugar
Cook on high flame for 4-5 minutes and make a thin sugar syrup (less than 1 thread)
Turn off the flame and put all of the fried balls into the sugar syrup
Leave the balls in the saucepan so they can soak up the syrup for about 30 minutes
Serve and enjoy!
**If you'd like to serve the gulab jamuns with coconut, spread coconut powder onto a plate and roll them (one-by-one) in the plate to coat them with the coconut powder. Then serve warm.
**Tip: If your baking soda is a little old, you will have to use a little more to balance the recipe out
Print