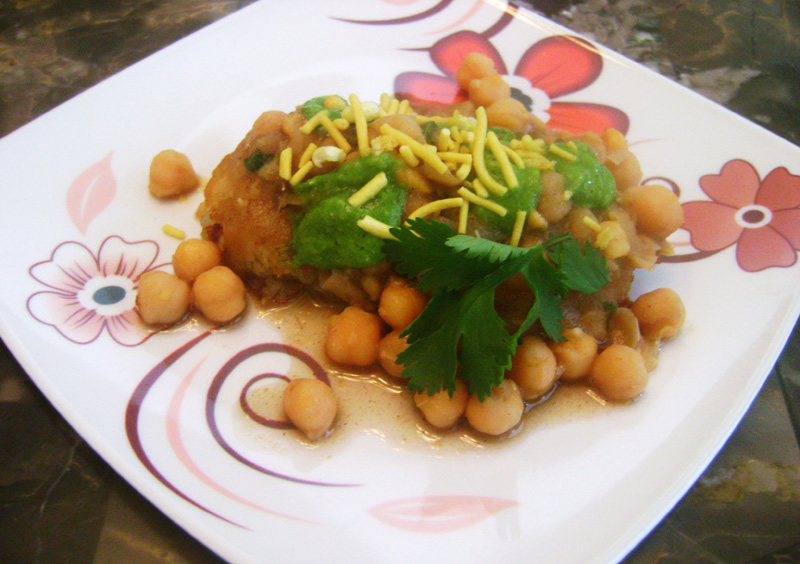 Chaat is an Indian delicacy that is pleasured by all. This version of the chaat recipe combines chole with the classic potato patty.  I have cooked this recipe in my home for many years and the recipe seems to taste better each time. Even the kids will like this delicious chaat as there is no spiciness. Chole Chaat will be a guaranteed hit at any party and will leave your guests craving for more.
Chole Chaat with Potato Patties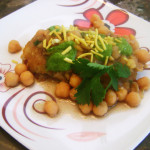 Ingredients
Chole
chickpeas - 1 cup
emli paste - 1/2 tsp, see note below
chole masala - 1 tbsp
ginger - 1 tbsp, (grated)
green chile - 1/2
black salt - 1/2 tsp
cilantro - few sprigs
salt - taste
water - 4 cups
Patties (2 people)
potatoes - 4
oil - 4 tbsp
salt - taste
Instructions
Chole
Soak chick peas overnight.
Boil in cooker with water using pressure cooker method. (Wait for 4-5 whistles and turn off gas)
Open the cooker, you can add/subtract water according to the consistency you want.
Add in all other items.
Patties
Boil the potatoes.
Peel and mash the potatoes.
Shape the potatoes into a pattie shape.
In a shallow pan on medium heat, add the oil and put in the patties.
Fry on both sides until crispy and slightly brown.
Add chole and garnishing on top (see note below).
Note: Garnishing - green chutney, tamarind chutney,  sev, onion, cilantro, chole.
Emli paste is something that is used in Indian cooking and can be found at an Indian grocery store. This can be found here.
Print