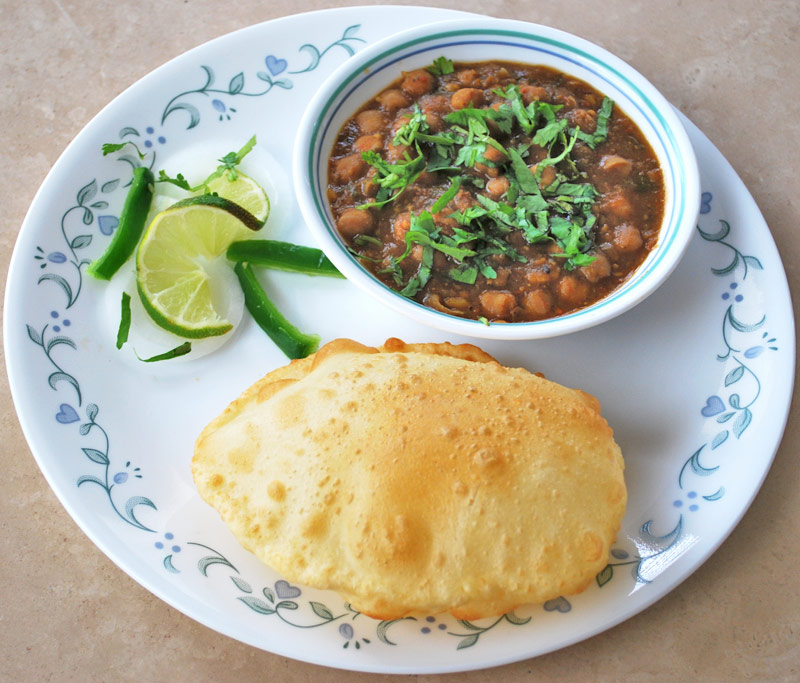 Chole bhature is a North Indian dish that is liked by people of all origins. It is composed of a spiced chickpeas (chole) and soft, puffy, deep-fried bread (bhatura). Although chole is made using different methods in various parts of India, this is made using the typical North Indian way.
This is my family's go-to one dish meal when we don't really feel like cooking something intricate but still want something tasty and filling to satisfy our food cravings! Although the wait time to make chole bhature seems a little daunting considering it is 5-6 hours, I promise you it's worth the wait. Since I'm not really patient when we're dealing with cooking, I prep for this at night and sleep during the wait time so that I don't have to painfully wait those long hours. That way it works perfectly because the wait time ends and I get my beauty sleep as well. Nothing like hitting two birds with one stone, right?
Chole bhature is a favorite in my household and I can guarantee that it'll become a favorite in yours as well, so try it out and let's see if you can refrain from making this as often unlike me!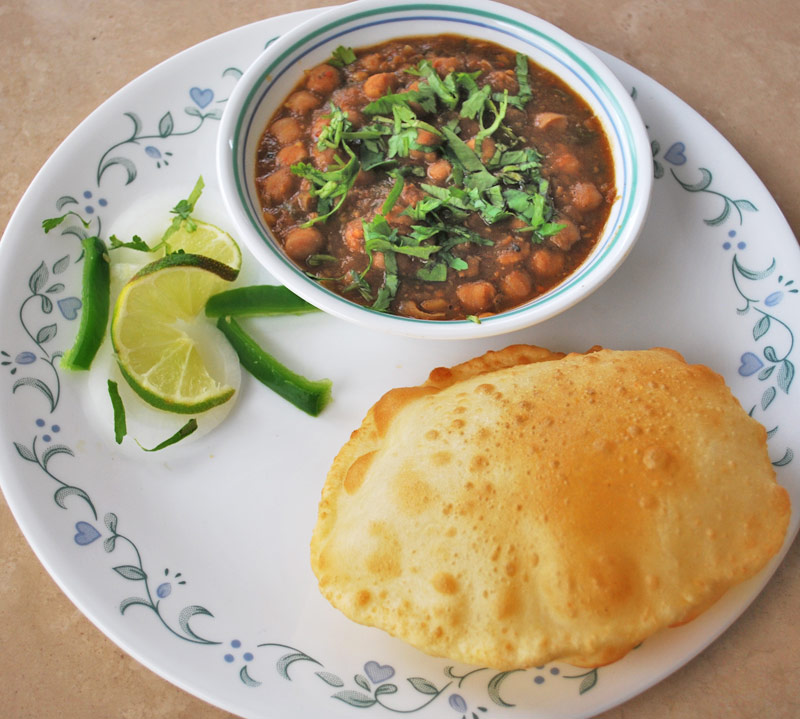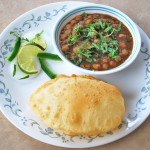 Skill Scale:
Moderate
Serving:
4-5
Prep Time:
10 minutes
Cook Time:
60 minutes
Ingredients
For Chole
chickpeas - 2 cups
water - 6-7 cups
salad tomatoes - 2, (pureed)
sweet onion - ½, (chopped)
cloves garlic - 2-3, (minced)
ginger - 1 ½ inch, (finely chopped)
jalapeno pepper - ½, (finely chopped)
cilantro - ¼ cup, (chopped)
lemon - ½, (juiced)
oil - 2 tbsp
tomato paste - 1 tbsp
asafetida (hing) - 1 pinch
cumin seed - 1 tsp
garam masala - ½ tsp
turmeric powder - ½ tsp
black pepper - ½ tsp
red pepper - ½ tsp
gooseberry powder (aamla powder) - ½ tsp
pomegranate seed powder - ½ tsp
mango powder (aamchoor) - ½ tsp
coriander powder - 1 tsp
salt - 1 tsp
black salt - 1 tsp
fenugreek leaves - 1 tbsp, (dry)
For Bhature:
flour (maida) - 2 ½ cup
semolina (fine sooji) - ½ cup
salt - 1 tsp
plain yogurt - ½ cup
baking soda - ½ tsp
water - about ½ cup
oil - 1 tsp
oil - for frying
Instructions
Recipe for Chole:
Thoroughly wash chickpeas 2-3 times with water and set aside to soak in water for at least 5-6 hours or overnight
After soaking the chickpeas, put them in a pressure cooker and add salt
Make sure there is enough water in the pressure cooker and if not, then add water until the water is an inch above the chickpeas in the pressure cooker
Boil on high flame
After the pressure builds up, put it on a low flame for 5 minutes
Then turn off the gas but do not take out the pressure (let it come out by itself) and set aside.
NOTE: If you're not using a pressure cooker and using a saucepan instead, then follow the same steps until the chickpeas soften up for about 30-40 minutes. If you are using a slow cooker then it will take about 6-7 hours
In a fry pan,  heat oil on a medium flame and add asafetida (hing) and cumin seeds to it
Add onion and garlic to the pan and sauté for 2-3 minutes until onion becomes golden
Add ginger and jalapeno to the pan and sauté for about 1 minute
Add tomato puree, tomato paste and the remaining ingredients except for the chopped cilantro and lemon juice to the pan and stir
Stir all of the ingredients until the gravy leaves a ring of oil in the pan (approximately 5-7 minutes)
Add the gravy to the boiled chickpeas and stir
Cook the chickpeas on a high flame until it comes to a boil
Then cook it on a low flame for about 15-20 minutes for all of the spices to thoroughly mix with the chickpeas
Add lemon juice and cilantro and mix
Serve
Recipe for Bhature:
In a big bowl, mix flour (maida), semolina (fine sooji), salt and baking soda
Add yogurt to the bowl and mix
Add small portions of water to the bowl and knead the mixture to form a dough
Evenly coat the dough with 1 tsp oil and cover it with a lid and leave aside for 5-6 hours to ferment the dough
Pour oil into a deep wok/kadhai and heat it on high flame
Make 10-12 small balls of the fermented dough
Using a rolling pin, flatten each ball so that they are all about 7-8 inches in diameter
NOTE: If you have a hard time flattening each ball, you can use a little oil as your aid
Fry each flattened disc on a high flame (both sides)
Serve along with chole
Print